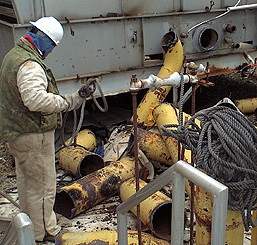 Demolition Division
Sil/Carr will work with you to plan and execute the demolition of any structure, in any location with safety and precision. Look at our Case Studies to see photos of some of the methods used for unique situations. We have worked with companies who are pursing LEED certification by segregating and recycling carpet, wood, metal, and other demolition waste.

Our experience ranges from office towers to schools to shopping malls and our clients range from private building owners doing restoration or renovation to general contractors handling large construction projects.

We are able to remove masonry walls, flooring, ceilings, and foundations with job-specific equipment and trained technicians. We will complete your project on time and on budget. Please view some of the Testimonial Letters we have received from satisfied clients.

If you have a commercial demolition project coming up, please call and discuss it with us.