Jones Lang LaSalle
Ms. Patti Silva
Sil/Carr Corporation

Dear Patti,

Thank you for your assistance in helping us with another successful project at CityPlace I. By having you diligently manage the maintenance of our construction sites we were able to spend our time focusing on construction and satisfying client needs. Your role in construction cleanup and maintaining a clean and safe work environment has been invaluable and an example to be measured by.

We value the role your firm has played in our Project Management Services and we look forward to working with you again in the future.

Very truly yours,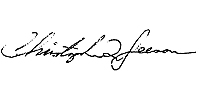 Christopher Beeson
Senior Chief Engineer
Jones Lang LaSalle Americas, Inc.